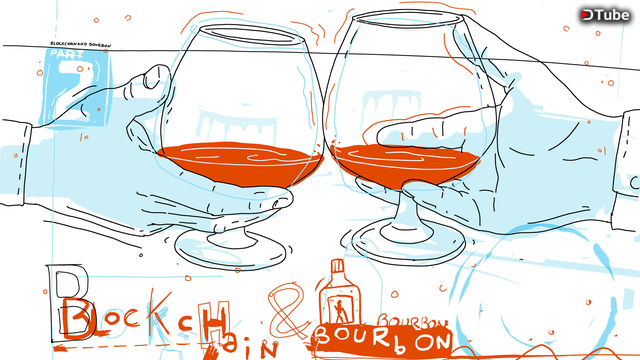 ---
Blockchain and Bourbon is a weekly livestream hosted by the makers of The Creative Crypto Magazine, covering the latest and greatest in crypto-empowered creativity.
B & B Recap [Click on the Image Above for Video]
---
During last Friday's episode, Michael discussed the ways to hook someone into the blockchain space, broadcasted on the PROPS Project's RIZE app. We discussed the various strategies of projecting and communicating innovation so that non-tech and non-financially interested professionals could nurture their curiosity through productive outlets.
Each week, we'll be streaming a new episode of Blockchain & Bourbon on Friday with a variety of topics, themes, and special monthly interviews. If you have any topics you'd like covered, let us know in the comments or on our Facebook page. Read about the official announcement and roadmap here.
Next Up, What a Decentralized Future Looks Like
---
Tomorrow (Friday) at 4pm EST, Kirk and Michael will return and speak on the topic of how the crypto landscape will change over the next several years and how they envision the ecosystem will function. They will also discuss what needs to happen in order for these advancement. Join them on Rize and Facebook to share your experiences, send over some tips, and share in on some pre-happy hour bourbon!
Why Steem + Facebook + Rize?
---
We believe that it's important to broaden the crypto-conversation. Part of our original mission for The Creative Crypto Magazine is to act as an outpost that can attract professionals and social-media users into the cryptocurrency landscape. Facebook remains one of the best tools to draw in new visibility to Steemit.com, @dtube / @dlive, the Rize app and beyond. We will continue to experiment with new decentralized apps (and old centralized apps) to bridge our audiences and cultivate a dynamic and productive conversation.
We hope you'll join us tomorrow! We'll be taking questions live after the main discussion.
Blockchain & Bourbon Details
---
About: Steemit Announcement
RIZE Address: Link here (only on mobile)
Facebook Page: www.facebook.com/creativecrypto
Illustrations by Artist @zsolt.vidak
Music by Joakim Karud
magazine / twitter / facebook