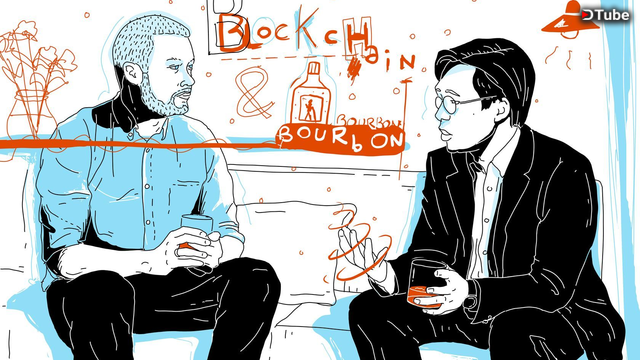 ---
Blockchain and Bourbon is a weekly livestream hosted by the makers of The Creative Crypto Magazine, covering the latest and greatest in crypto-empowered creativity.
B & B Recap [Click Image Above to Watch]
---
During last week's cast, we did a comprehensive overview of the major happenings of early May. We covered significant topics including the reveal of McAfee's paid tweets, Coinmarketcap's April Fools' lambo joke, Forbes' coverage of the @hardfork-series, and the integration of blockchain in Line's messaging app. For this episode, we enjoyed a glass (or two) or Von Brunt Stillhouse's Bourbon.
Each week, we'll be streaming a new episode of Blockchain & Bourbon on Friday with a variety of topics, themes, and special monthly interviews. If you have any topics you'd like covered, let us know in the comments or on our Facebook page. Read about the official announcement and roadmap here.
Next Up, Decentralized Video
---
Tomorrow will be our next broadcast at 4pm EST. We'll be discussing Decentralized Monetization of Video Content and focusing on applications like @dlive and @dtube for audiences new to the Steem blockchain. We'll be experimenting with the applications ourselves, using the popular RIZE app, built on the PROPS Project by YouNow, as well as streaming to our TCC audience on Facebook to draw more people into the Steem blockchain. We'll upload a polished version of the stream on @dtube just as we did today for last week's stream.
RIZE and PROPS spotlighted us on their latest newsletter. Sign up for future announcements here.
We hope you'll join us tomorrow! We'll be taking questions live after the main discussion.
Blockchain & Bourbon Project Details
---
About: Steemit Announcement
RIZE Address: Link here (only on mobile)
Facebook Page: www.facebook.com/creativecrypto
Cover illustration by @zsolt.vidak